Best Things to do in Bywater, New Orleans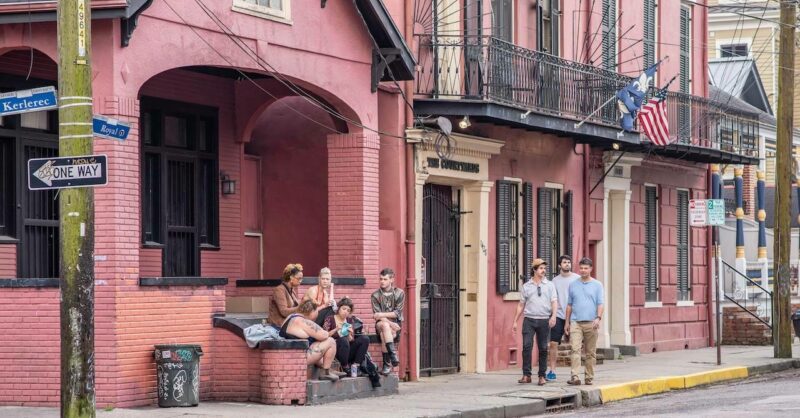 The chances are that if you've visited the Big Easy, you may have found yourself searching for 'things to do in Bywater, New Orleans.' This neighborhood is easily one of the most underrated spots in the city. It sits within walking distance to the French Quarter but has just as much to do with half the tourists at any given time.
A hot spot for locals and visitors alike, if you've been googling 'things to do in Bywater, New Orleans,' look no farther. We've put together a list of our favorite things to do in the Bywater, ranging from breweries to art galleries to parks and much more.
Find The Perfect Things to do in Bywater, New Orleans
The Music Box Village
A brainchild of New Orleans Airdrift, an artist-driven non-profit, the Music Box is essentially a playground where every structure doubles as a musical instrument. Touted as a place where play, imagination, and experimentation can come together, this is an excellent spot for those who miss being able to play at a park and want the bonus of the swings becoming wind chimes. They are typically open to the public and host private events and concerts from local and national acts.
Bacchanal Wine
Bacchanal is especially popular among wine lovers, located at the bottom corner of Bywater, New Orleans. They call themselves NOLA's original pop-up and have strong roots in the city, plus a feature in the HBO's series Treme. With hundreds of wines to pick from and courtyard dining (often featuring some of the best jazz you can find in New Orleans), this is a perfect place to relax and after a long day of exploring the city. They are currently open from 12 pm - 11 pm, Friday - Sunday, and 5 pm to 10 pm on Monday, Wednesday, and Thursday.
Piety St. Market
Piety St. Market is only the second Saturday of each month, but it features artists and sellers of all kinds from all over the city. From vintage dresses to handmade Mardi Gras headpieces, it's a great place to support local artists and bring home a souvenir from New Orleans instead of a magnet from the airport. The market is typically held at the New Orleans Healing Center or right outside, depending on the weather.
If you're not in town during the weekend of the Piety St. Market, make sure to keep an eye out for other pop-ups; during the fair-weather months, there's bound to be one almost every weekend somewhere in the Bywater with plenty of artist overlap.
Clouet Gardens
Clouet Gardens is a secret hidden gem buried in the middle of the Bywater, New Orleans. Decorated with large glass murals and featuring several permanent art installations, this open outdoor area is a great place to sit down and take a break as you walk around the neighborhood. If you're lucky, you might catch a musician who was inspired by this Bywater beauty! This outdoor space is free of any wifi or tech hookups, so make sure your phone has a full battery before you go so you can get as many videos as your phone can hold. To charge your phone on the go, find a MobileQubes Kiosk near you!
Bywater Brewpub
A locally owned and operated full-scale brewery, the Bywater Brewpub is a can't miss for beer lovers. Their in-house brewed beers range from golden ales to IPAs to dark stouts, and the full-service kitchen serves Cajun and Vietnamese food. A well-liked choice for caffeine lovers is their 'The Coffee's Wort The Wait' beer, a Vienna Lager spiked with traditional New Orleans Chicory Coffee.
JAMNOLA
JAMNOLA stands for Joy, Art, and Music - New Orleans. It is an experimental pop-up with 12 different installations that celebrate the city's art, music, food, and theatrics. This exhibit is a favorite for anyone who wants to beat the heat (the installations are all inside, in air-conditioning) or to get the ultimate New Orleans Instagram shot.
Tickets range from $20 to $29, and they're open Wednesday through Sunday. If you're a Louisiana resident, you can save 15% off admission on Wednesdays and Thursdays. They're also conveniently located right down the street from the Bywater Brew Pub and Studio Be Gallery.
Studio Be Gallery
Studio Be is home to Brandon' Bmike' Odum's first major solo project. The gallery space consists of a 35k foot warehouse that includes this local artist's large-scale graffiti representations of New Orleanians, ranging from celebrities to everyday community members. There are both guided and independent tours available for visitors, with an in-house merchandise shop for those who want to take a memento of Odum's work with them.
The Country Club
The Country Club claims to be one of the city's best-kept secrets, and they're not wrong. They boast decadent brunch offerings and a full-service bar inside, and a pool area with another bar and kitchen outside. This spot easily takes first place for the 'best things to do in Bywater, New Orleans if you want to relax all day.'
The Bargain Center
Located on 3200 Dauphine St, The Bargain Center overflows with thrift store treasures - literally, as they put their sale items out on the curb on nice days. There are clothes, records, books, a surprisingly wide-ranging collection of Mexican folk art, prints, jewelry, furniture, and much, much more at this vintage hot spot. Location is also a huge perk if you're trying to find some treasures; this thrift store is surrounded by good food and popular bars. Just be ready: because they sell by individual vendors, you'll want to have cash on hand for those that don't take credit cards.
Crescent City Park
A 1.4 mile stretch from the Bywater into the French Quarter, the Crescent City Park runs parallel to the A 1.4 mile stretch from the Bywater into the French Quarter, the Crescent City Park runs parallel to the Mississippi River. Various events range from fireworks to concerts to workout classes in the park, so it's worth keeping an eye on their events page. The park is bikeable and walkable, and it includes a small fenced-in dog park for your furry friends.
Saturn Bar
A dive bar with a punky sort of vibe, Saturn Bar may not be everyone's cup of tea, but it is undoubtedly a staple of the Bywater bar scene. They carry a large selection of canned and bottled beers and have live music most nights. Though briefly closed due to the pandemic, Saturn Bar will be reopening soon and back to their partying ways.
The End of the World
Past Bar Redux, behind the Music Box, there is a hill that leads to a narrow path along a levee. If you follow this path, you will eventually hit what locals call The End of the World, where the industrial canal meets the Mississippi River. It's a no-frills, community-made park but a favorite for many. On any given trip, you may be able to find offerings to the Mississippi, a maze made of rocks, and during Carnival, you can catch one of the dawn parades that begin there.
Unlimited Things to Do in Bywater, New Orleans
This list is just a tiny sampling of what you might find when you're searching for 'things to do in Bywater, New Orleans.' With an artistic charm unique to the neighborhood, don't let charging your phone slow you down. Make sure to check out MobileQubes so you can capture every Saturn Bar boomerang and Studio Bee selfie without worrying about your phone dying.