Best Walking Tours in New Orleans' French Quarter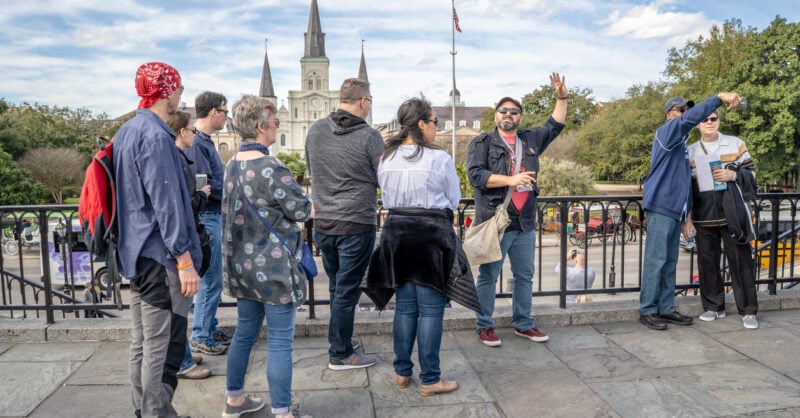 If you're going to be down to visit the Big Easy, it's almost a guarantee that you'll want to hit one of the walking tours in New Orleans' French Quarter. There are plenty of options, depending on exactly what you're looking for out of your experience. Each tour has a different focus and style and can even vary from tour guide to tour guide - so don't be afraid to take more than one while you're visiting the city! No matter what tour you do, it'll always be a one-of-a-kind experience.

Walks Tours in New Orleans' French Quarter for Every Kind of Visitor
For the Cocktail Lovers: New Orleans Original Craft Cocktail Walking Tour
Touting themselves as the original craft cocktail walking tour, you can take a stroll through the French Quarters' famous bars and restaurants to discover the most celebrated 'spirits' of New Orleans. This tour is easily one of the most famous walking tours in New Orleans, and for a good reason; each tour starts your night off with a complimentary NATCHEZ Jazz Punch before you start learning about the rich history of the Sazerac, Absinthe, Pimm's Cup, Ramos Gin Fizz, and many more of the beverages that New Orleans is famous for. And don't worry - there's also plenty of stops on the tour, so you'll have time to taste test these famous concoctions as you learn about them.
For the True Crime Fans: Hottest Hell Tours
This tour is one that you'll want to get tickets for early. Having been creatures on ABC, FX, the SYFY channel, and many more, the Hottest Hell tours often get sold out in advance. It's not too surprising: Many of the guides are native to New Orleans, with families that have been here since the 1800s, making them experts in their fields. Since they opened, Hottest Hell tours have become a favorite for visitors, celebrities, and locals alike.
. You have four options of tour types from the Hottest Hell Tours, each one with a different focus:
Walking the Devil's Empire Tour: this night tour is an adult's only event that focuses on some of the most wicked characters in New Orleans' history.

The Dim Corner Tour: another nighttime tour that goes back to the history of the rouge colony that settled in the area, mixing true crime and paranormal stories. The name comes from famed occultist Aleister Crowley, who briefly lived in New Orleans in 1917; he described the city as a "dim corner" of the United States, one that "death has overlooked."

The Backatown: Sex, Drugs, and Jazz Tour: a daytime tour that runs through the history of Storyville, New Orleans' original 'vice district' that helped make the city famous.

The Gates of Guinee Voodoo Tour: a daytime tour that promises the real history of voodoo.
For True Jazz and Music Lovers: The New Orleans Music Tour
American singer Ernie K-Doe once famously said, "I'm not sure, but I'm almost positive that all music came from New Orleans," and this tour aims to prove it. The New Orleans Music Tour starts at Congo Square, where West African musical traditions were traditionally performed. This spot is considered the beginning of all New Orleans music, and the tour goes from there, stopping at famous studios and musical highlights throughout the French Quarter, including Basin Street Station, the New Orleans Musicians Tomb, the Old French Opera House, and more.
The Wannabe Historians: Friends of the Cabildo French Quarter Walking Tours
City-licensed guides conduct the Friends of the Cabildo French Quarter Walking Tours seven days a week from 10:30 a.m. to 1:30 p.m. The tours focus closely on history, architecture, and folklore. While they offer a total of ten tours throughout the city, the historically in-depth walking tours in New Orleans' French Quarter include the Battle of New Orleans Tour and the New Orleans Rhythm & Blues Tour. These are deep dives into history, lasting around two hours each - so many are sure to set aside plenty of time for this event!
These tours are also a great option if you want to try and give back to the city while you're visiting. The money made from the tours and store benefits the Friends of the Cabildo, a non-profit group that has supported the Louisiana State Museum for over fifty years. The Louisiana State Museum operates five different museums in the French Quarter alone, which host historically and currently important exhibits such as From "Dirty Shirts" to Buccaneers: The Battle of New Orleans in American Culture and interactive exhibits like Living with Hurricanes: Katrina and Beyond and Mystery in Motion: African American Masking and Spirituality in Mardi Gras.
The Independent Types: Self-Guided Free Tours By Foot
If you're more interested in just having a loose outline for your walking tours in New Orleans, you may want to try one of the many Free Tours by Foot offerings. They offer self-guided, GPS-enabled audio tours, so you can stop and start at your leisure, so there's no pressure to hurry off if you get distracted by a second-line or art gallery. They also offer more traditionally guided tours throughout the quarter.
For the Spooky Fanatics: New Orleans Ghost and Vampire Tour
From historically accurate tales of local hauntings to vampire lore, this tour is a combination of spooky and fun. The New Orleans Ghost and Vampire Tour is a favorite among visitors and has plenty of accolades to prove it: it was voted New Orleans #1 Haunted Tour by the New Orleans Concierge Association eight years in a row, awarded the TripAdvisor Certificate of Excellence, TripAdvisor Hall of Fame, and more. The Discovery Channel's Official Best of Louisiana also featured this tour from 2014 - 2017.
For the Majorly Morbid: One Hour Saint Louis Cemetery Number One Walking Tour
While guests aren't currently allowed inside the cemetery, this Saint Louis Cemetery Number one guided walking tour still promises all the same rich and colorful history of some of the city's most famous characters. This tour is an excellent opportunity to learn about a different side of New Orleans, as visitors will get the chance to learn about the city's most famous families, as well as the unique history of cemeteries in New Orleans themselves. They also promise an opportunity to pay respects to the famous Marie Laveau.
This New Orleans walking tour is also a great option for those who want to taste New Orleans' history before committing to a more extended expedition. At just one hour, this is one of the walking tours in New Orleans that best fits almost any schedule.
The Best Walking Tours in New Orleans and More!
Once you've finished one or more of the walking tours within the French Quarter, consider checking out if there's a festival happening nearby. You can also take yourself on a tour through the nearby neighborhood of the Bywater, which offers many off-the-beaten-path hot spots for those tired of dealing with crowds.
No matter what you're doing or where you're going in New Orleans, you'll want to make sure your phone has a full battery everywhere you go - especially if you're trying to keep track of your steps while on a walking tour! Mobilequbes makes it easy to stay active and keep your phone fully charged without worry or cords, so you can focus on the unique experience of being on a one-of-a-kind walking tour experience.