Finding Breakfast by Penn Station: The Top Spots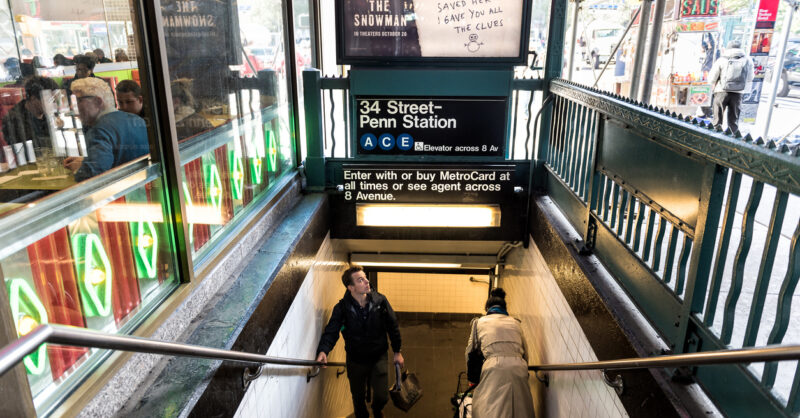 Whether you live in New York, are a frequent visitor, or are on your very first trip, you've probably faced the inevitable: trying to find breakfast by Penn Station. Around 600,000 passengers travel through the station each day, meaning navigation in and around the station is critical if you don't want to get lost in a crowd, especially when searching for the perfect place to satisfy your breakfast cravings.
Breakfast isn't just a meal; it's a state of mind. If you come out of the station starving, don't worry - we've cultivated our top picks for breakfast by Penn Station for every type of breakfast food connoisseur.


Breakfast by Penn Station That Any Food Lover Can Enjoy
For the Glutton Free: Freidman's Herald Square
Friedman's Herald Square has all-day breakfast, including buttermilk pancakes, farm egg omelettes, avocado toast, and more. This family-owned business has locations all around New York, which makes it an easy comfort food spot to find, and they always have fresh farm ingredients.
As a bonus, Friedman's has several gluten-free options available for those who want to enjoy breakfast by Penn Station without wheat products. In fact, they have an entire menu dedicated to it, including amazing gluten-free pancakes, waffles, and fried chicken.


For the Boozy Bruncher: The Ragtrader

The Ragtrader is perfect for those who love breakfast, but maybe not early mornings. Their brunch only runs on Saturday and Sunday, starting at 11 a.m., but its decor makes up for its lack of weekday hours. Hidden inside an old tailor's shop, there are neon signs, unique vintage pieces, and a wooden bar that makes it unlike any other on this list - and perfect to show off on social media. Menu highlights for this weekend spot include the ricotta pancakes and sriracha deviled eggs. But of course, the real draw is the two-hour boozy brunch window: for $30 per person, you can choose your punchbowl for the table with Rose Sangria, Mezcal, or Pisco Punch or you can choose to have a Build-Your-Own-Mimosa-Bar.
It's easy to end up in The Ragtrader for several hours, so make sure to keep your phone charged from the moment you step out into Penn Station. MobileQubes makes on-the-go smartphone charging convenient and easy, so grab a charger at the closest location so you can get as many boomerangs as your Instagram story can handle.

For Something Right Now: Tick Tock Diner
Open from 6 a.m. to 10 p.m., Tick Tock Diner is at most two minutes away, making it a favorite for those looking for a quick breakfast by Penn Station without much walking. Tick Tock Diner also claims to be the largest diner in New York City with minimum wait times. The menu is extensive, with Italian, Tex-Mex, and Greek influences on their food -- and of course, in true diner fashion, they serve breakfast all day. If you're looking for a place with a little bit of everything and booths as far as the eye can see, this is it.

For the Broadway-Obsessed: Ellen's Stardust Diner
While it's not right next to Penn Station, it's close enough that we had to include it as one of our can't-miss spots for its unique factor. Ellen's Stardust Diner includes "egg-citing omelettes" and is excellent for those with a sweet tooth. Of course, what makes this place incredibly unique is the singing waitstaff. Diners get serenaded by just about any Broadway classic - and of course, they take requests!
Because of its popularity, you'll want to make a reservation and make sure your phone is fully charged so you can capture the magic and the music. MobileQubes makes it easy to charge your phone on the go, without any wires tangling up in your bag or pocket. We want to make sure that you catch every second of the performance!

For the Francophiles (or just the French Pastry Obsessed): La Bergamote
If patisserie is what you crave, La Bergamote can deliver. Open from 7 a.m. - 10 a.m., Monday through Saturday, the pastry case includes everything from tiramisu bombs to eclairs to numerous tarts.
Of course, if you're traveling with someone less than thrilled to have dacquoise for breakfast, they also have more traditional, savory breakfast options: highlights include smoked ham eggs benedict, lemon ricotta blueberry pancakes, and organic granola parfaits.
For the Late Night Breakfast: Al's Deli
If you want breakfast by Penn Station, but it's 9 p.m., have no fear - Al's Deli serves bagels, french toast, breakfast wraps, and more 24 hours a day, seven days a week. The location has been around for almost half a century, making it a staple in the community. This place is one of the more low-key spots for breakfast, making it an excellent pick for those who want to take a moment away from the usual hustle and bustle of the big apple and typical breakfast by Penn Station spots.

For the Cheesecake Lover: Little Grace Bakery
Cheesecake for breakfast might sound a little wild, but this isn't any cheesecake. Inspired by Japanese baking, Little Grace Bakery is most famous for its Burnt Cheesecakes, a cross between the Japanese souffle cheesecake and a classic New York Cheesecake. These are cooked at very high heat to create a cheesecake with an incredibly creamy and custardy center paired with a perfectly caramelized top. Little Grace Bakery also famously only uses fresh milk from a nearby farm in Salem, New York, for those concerned about eating local products.
They're only open from 12 p.m. to 7 p.m. daily, so make sure to swing by for the perfect afternoon breakfast by Penn Station (or to pick up something for the following day - your tastebuds will thank you later.)

Breakfast By Penn Station: Any Kind, Any Time
Of course, these are just a few of the many options for breakfast by Penn Station. Whether you're going to work, preparing to walk around museums all day or want to try something new, we know that breakfast is one of the most important meals to help keep your energy up in the city.
No matter where you eat or what kind of breakfast lover you are, MobileQubes is here to make sure to keep your phone charged to capture every extra-cheesy late-night omelette, perfectly french pastry, and singing server.