How to Charge a Dead Cell Phone Battery on the Go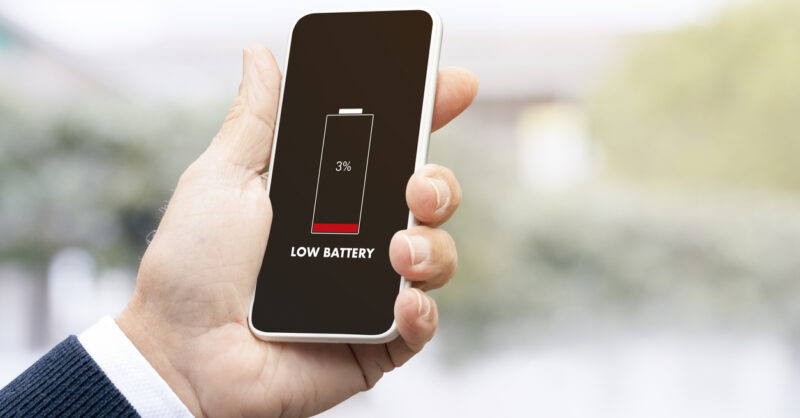 Life moves fast, and you don't always have time to slow down. Regrettably, sometimes your phone battery can't keep up. Did you notice the juice dwindling as you rush to capture your daughter's recital right after work? Just realized your charger is still in the car as your plane lands in another city? Whatever the reason, at some point or another, many of us will need to know how to charge a dead cell phone battery on the go. It happens to the best of us, but life is meant to be lived! Don't let a dead battery kill your vibe. Below are four life-saving ways to charge a dead phone battery while you're out and about!
Use Your Luggage
The 21st century has been full of surprises, not the least of which being luggage with charging capabilities. From Away suitcases to the Everpurse, the option to charge your phone on the go while remaining stylish is here. There are even backpacks with this capability (so that hike your friend invited you on just became a little less daunting). Unfortunately, some of these products do cost a pretty penny. Still, if they are within your budget, these products are sure to keep you chugging along even when you don't have time to remain stationary. Besides being inconvenient, having your phone battery die while you're on the move can potentially leave you in some precarious situations. For that reason, it is essential to make sure you have a way to stay connected. To that end, note that each brand and bag will have its unique features. For instance, some come with USB ports but require you to provide the cord and/or power bank to store in the bag. Just be sure to read the product description before you buy to avoid any confusion and ensure that you are getting the gadgets you need.
Use Another Phone
Jokes about the camera quality aside, android phones are loaded with some fantastic attributes that aren't yet available for iOS supported devices. One of the best features Samsung phones have is their PowerShare capability. If you or a buddy has a Samsung phone with wireless charging capabilities, enable the wireless PowerShare feature from the notification panel or locate it in the settings menu. Make sure that neither phone is in a case. Next, place the Samsung device face down and place the cell phone with the dead battery on top of it, screen up. Once they line up appropriately, the dying device will begin to siphon energy from the host device. You can even keep the Samsung phone plugged in while it's charging the depleted battery for extended charge time! The best part is that the dead cell phone does not need to be a Samsung device! Any device with wireless charging capabilities can power up this way. (Pro tip: this also works with galaxy earbuds and galaxy wearable watches, so you can keep all of your devices primed and ready.)
Use Your Laptop
If you have a USB cord and a laptop with you, all you need to do is connect your phone to your computer, and you will be back to checking your emails in no time. You may need to stop and open the laptop to allow or block certain access to your phone over USB connectivity (especially if you are using someone else's laptop). Keep in mind that if you choose the correct settings on most laptops, you will even be able to close the device while you charge the phone to get you moving again even sooner. Shutting the computer will also preserve its battery, allowing you to charge for longer.
If you are using a PC, follow these steps:
First, go to the start menu and open the device manager on your laptop

Travel to the Universal Serial Bus Controller option and click to expand it

In the list, find and right-click "USB Root Hub" and select properties

In the new window that pops up, travel to the Power Management tab

Uncheck the box labeled "Allow this computer to turn off this device to save power

Connect your phone to the computer using the USB cord, and you are all set.
If you're using a Mac, the process requires an additional download but is still very manageable and valuable, especially if you are in a pinch:
Download and install the free system utility application InsomniaX

Click the InsomniaX icon that appears in the toolbar of your laptop and click "Disable Lid Sleep."

Close your laptop, use the USB cord, connect your mobile device to your computer, and voila!
This method is excellent if you are on the move with a bag or laptop case or in a location where you can safely step away from your devices if necessary. But either way, sometimes a laptop and a USB cord are all you need to get some power back into your phone.

Rent or Buy Convenient Charging Options with MobileQubes
If you aren't in the market for new luggage, mobile PowerSharing isn't an option, and carrying a laptop around seems cumbersome; MobileQubes offers an affordable and convenient option for weary travelers. MobileQubes are tiny, portable battery packs that anyone can rent, buy, and recharge at any of their self-service kiosks. Once you've gotten a qube out of the kiosk, connect it to your phone and carry on with your day! Yep, you are free to walk about with this cordless power bank while your phone is charging. When your phone has a full battery, return the MobileQube to the kiosk. Each day past the initial rental date ranges from .99¢ to $6.99 per day depending on the kiosk location. Any rental period exceeding 7 days will be considered a purchase, so be sure to return it before that (unless you're hooked)!
For more information about where you can count on MobileQubes as an option, visit our website to find a qube near you.