Phone Charging Union Station Chicago Locations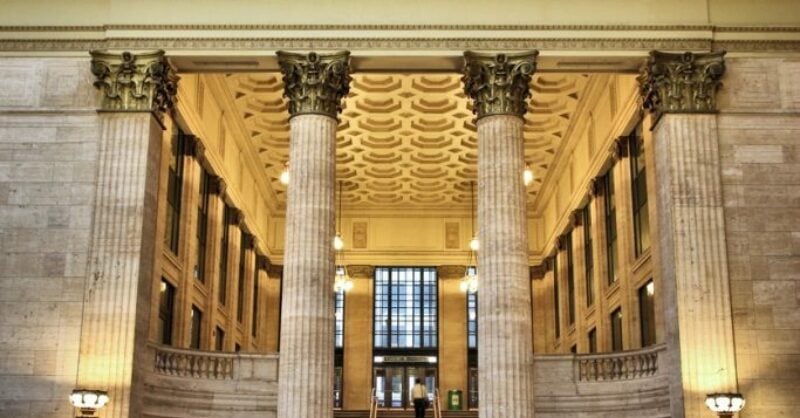 On the hunt for phone charging Union Station commuters can rely on? MobileQubes has the solution you're looking for. We can help you deal with a low charge on your smartphone, tablet, or another device whether you're headed to work or you're just visiting the Windy City.
With our nationwide network of kiosks offering portable charger rentals, you don't need to carry cumbersome wires, cords or adapters in your bag or briefcase. By using MobileQubes, which has six phone charging Union Station locations, you can get your devices back to 100-percent battery with our cordless chargers that plug directly into your device. Plus, you can continue to use your phone while it charges up.
Chicago is the third-largest city in the United States and is one of the most important cultural and business centers in the world. With large numbers of tourists visiting for the city's many events, conferences, and more and with plenty of commuters coming into the Loop from nearby, Chicago is a place people go to stay connected. MobileQubes helps you keep in touch by ensuring you're never out of battery life.
Conveniently located in Chicago's Union Station and in transit stations across the city, MobileQubes phone charging kiosks are easy to access and use. When you rent a Qube from one of our phone charging Union Station Chicago kiosks, you're able to return it to that location or any one that's nearby once you're finished using it. Or if you want to keep using the Qube going forward, you can purchase it and recharge it quickly with a standard micro-USB cable.
About Union Station Chicago
Chicago's Union Station, located at 225 S. Canal Street, just outside the Loop, opened in 1925 and was originally built to serve as a union of four different railroad lines that serviced the entire country. All together, Union Station is the size of ten city blocks and serves nearly 140,000 passengers on an average weekday, making it the third busiest train station in the country, and the fourth busiest Amtrak hub.
With all these people passing through on a daily basis, there are plenty of people in need of a quick charge for their smartphones or other mobile devices. Especially if you've forgotten a charging cord at home or can't find a free outlet, getting your device out of the red can be a huge hassle. Thankfully, there are six MobileQubes phone charging Union Station locations conveniently positioned within Chicago's major transit hub.
MobileQubes Phone Charging Union Station Chicago Locations
Whether you're in Chicago for just a few days on business or have lived here your entire life, you'll appreciate that MobileQubes phone charging Union Station passengers appreciate trust is close by. You can confidently rent or buy a Qube from any of our six kiosks around Chicago's Union Station.
PHONE CHARGING UNION STATION GREAT HALL
The Great Hall at Chicago's Union Station is an architectural marvel with a vaulted ceiling and marble floors and columns. It has been featured in a number of movies and TV shows such as The Untouchables, My Best Friend's Wedding, and ER. It serves as a central location within Union Station and was always intended to hold large numbers of people, and see heavy daily use by passengers.
Within the Great Hall, there are two MobileQubes kiosks that can be easily accessed by commuters and tourist passengers. They are conveniently located near the automated Amtrak ticket kiosks, directly behind the main ticketing desk.