New Orleans Festival Guide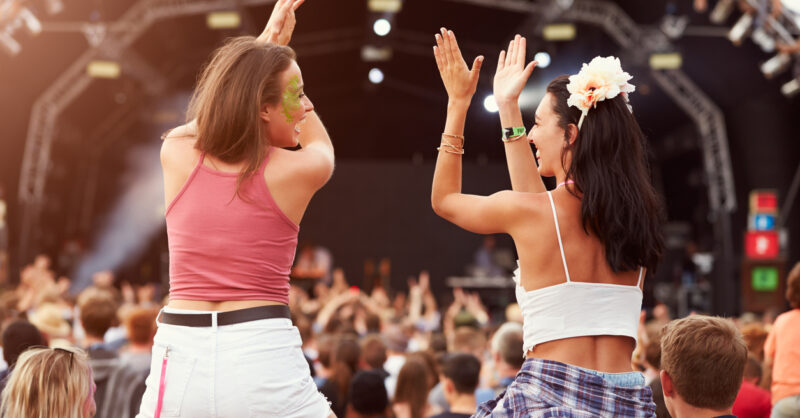 When it comes to festivals in New Orleans, there are simply some that are unbeatable. The city's music scene is unique, and the music festivals in NOLA reflect that. With the recent, triumphant return of live music, so comes the return of festivals - which is why we've put together the ultimate New Orleans Festival Guide.
The Best Music Festivals in NOLA
American documentary filmmaker Ken Burns once said, "Jazz grew up in a thousand places, but it was born in New Orleans." The city is famous for many things, especially its long-standing jazz traditions - the music has become nearly synonymous with New Orleans. So it's no surprise that the Jazz and Heritage Festival (most commonly referred to just as Jazz Fest) is one of the crown jewels in NOLA music festivals.
Jazz Fest isn't limited to jazz music, of course - there's a wide variety of talent and genres every year, all coming together to celebrate. This year, 2021, the lineup includes Jimmy Buffett, Stevie Nicks, Lizzo, the Grateful Dead and Company, Brandi Carlile, and many more.
It spans two separate weekends, Friday - Sunday, with hundreds of acts performing either weekend. Though it usually takes place in the spring, attendees will join the party this year in the fall. The festival recently celebrated 50 years of existence, and it has been referred to as not only one of the best music festivals in the country but nearly an institution of New Orleans itself. At this point, it has gotten so popular that the commemorative shirts have become a collector's item for long-time attendees.
A fall tradition for many, Voodoo is held on Halloween weekend every year at City Park. Billing itself as a "musical gumbo," this event brings together music, art, community, and of course, cuisine under the mystery of Halloween weekend.
The event is held at the festival grounds in City Park, meaning there's plenty to do between seeing the 65 different bands they bring to the city for the event. Across from the music set up, Voodoo puts up interactive and immersive large-scale art installations and a shopping market with local vendors. New Orleans food also takes precedence over the typical festival food, with po'boys, beignets, and other Crescent City creations available for purchase.
Voodoo, however, is taking the season off this year. But don't fret; the festival promises to return with a vengeance in 2022 - so keep an eye out for the lineup soon!
Essence Festival is a yearly summer event celebrating the power and accomplishments of the African American Community. Essence Festival began in New Orleans in 1995 and has been held in the city every year since, bringing more than 400,000 attendees into the city for the fourth of July weekend.
The festival includes a marketplace with Black-owned businesses and plenty of individual sections and panels to enjoy, ranging from music, exploring modern beauty trends, celebrity Q&As, and other events. It's most famous for its empowerment seminars and nightly musical performances, which have featured stars such as Prince, Beyonce, Diana Ross, Mary J Blige, and many more.
Like many music festivals in NOLA, the French Quarter Festival has a long and rich history. Initially produced in 1984, it was created to bring residents back to the French Quarter after the World's Fair. Now, more than 1,500 volunteers work to make the festival a success, and the 20 stages set up around the French Quarter celebrate local music from every genre, including jazz, R&B, funk, brass bands, folk, Latin, Zydeco, classical, gospel, cabaret, and more.
A great part of this festival is its local love - only local companies work; in fact, the festival employs around 1,700 local musicians for its fall weekend date, and dozens of local restaurants and bars show their best stuff - plus the economic impact is millions of dollars, making it essential for the city to continue to prosper. In addition, the festival is consistently considered a favorite by locals, making it the premier event to engage in authentic New Orleans flavor.
Satchmo Summerfest honors the famed New Orleans local, Louis "Satchmo" Armstrong, and of course, takes place at the New Orleans Jazz Museum. Armstrong was and is a beloved figure in jazz and the city of New Orleans, and his influence is still evident in the many musicians that come out to play during the weekend event. This music festival in NOLA is perfect for those who want a slightly more laid-back atmosphere with Armstrong's more traditional sound.
Are you ready to dance? If so, the Cajun Zydeco Festival may be for you. The event features a whole month of entirely free back-to-back performances, putting traditional culture and music at the forefront of the experience.
This outdoor performance series is the only New Orleans festival that exclusively celebrates both Cajun and Zydeco music. Often featuring Grammy-winning and nominated acts, the Cajun Zydeco Festival celebrates its 15th anniversary this July!
Every May, the Bayou Boogaloo music festival docks on the shores of Bayou St. John in Mid-City to prepare for a one-of-a-kind festival. Festival-goers can stroll around the green or take to the bayou in boats, kayaks, and other inflatable watercraft. The festival is free of charge until 3 p.m., and attendees can enjoy food, drink, and local artisans while listening to some of the city's bands.
This four-day event is all hosted by Friends of Bayou St. John. The proceeds from the festival go to the nonprofit, which allows them to give back to the community in various ways, including the Restore the Bayou Canopy Project and the Anti-Litter Campaign. Bayou St. John is one of the oldest neighborhoods in New Orleans, and this unique festival celebrates the area like no other.

Commonly known as BUKU Fest, this is considered a boutique event that delivers the big festival lineup with a cool, house-party vibe. With plenty of electronic dance music, hip hop, and indie rock, this event brings modern pop culture and the New Orleans art community together. The site can hold up to 25,000 people and is also famous for its large-scale graffiti art projects.
This year, the festival is hosting a special BUKU: PLANET B, a one-time-only version of Buku that will celebrate the resilient culture of New Orleans and the return of live music to the stage.
Celebrate New Orleans with These Festivals
These festivals are all year long, from summer to spring, and are a great way to celebrate the return of live music. With all sorts of genres and styles, there's no doubt that if you're looking for a music festival to attend, you can find one right in New Orleans. When you are in the city, be sure to check out the other parts of the city - you're bound to find some hidden treasures no matter where you are.
And make sure to keep your cell phone battery charged when you do attend a festival with MobileQubes! This easy-to-use service will make sure you get all the boomerangs and videos that will last a lifetime.