Penn Station Pizza Guide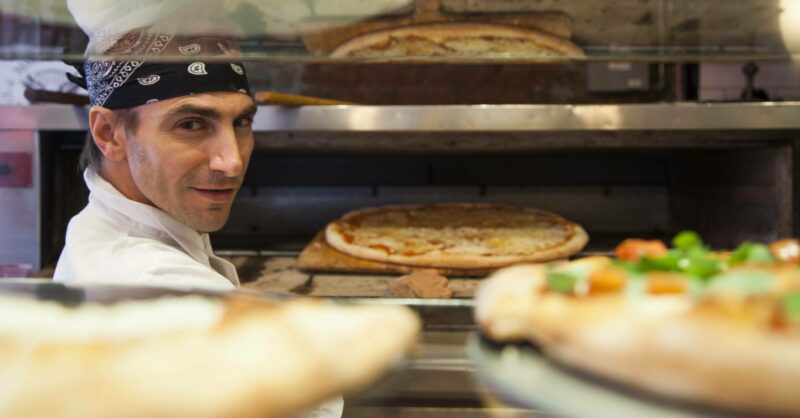 Have you ever desperately just wanted a Penn Station pizza? Well, you're not alone.
We've all been there: you're maybe coming back from work or some gathering. Your stop is Penn Station, and it's coming up soon. Then it hits you; you're hungry. Not just hungry, actually - you're starving. In fact, you have a craving that can only be satisfied by one thing: New York-style pizza.
A Penn Station Pizza Lover's Guide
New York is rivaled only by Chicago when it comes to the American pizza capitals of the world. New York-style pizza is very specific: it is typically thin-crusted, crisp along the edge while pliable enough in the middle that it can be folded in half and eaten on the go. Originally the toppings were very simple, with tomato sauce and mozzarella cheese only. The style came about in Little Italy in the early 1900s, evolving from a Neapolitan pizza made in Italy.
All of this is to say that New Yorkers take their pizza very, very seriously, and if you're coming off Penn Station pizza ready, then you'll have plenty of options. In fact, there are so many choices that it can seem overwhelming at first to decide where to get that perfect slice - which is why we've put together our favorite Penn Station pizza places that you have to try when you're in the city.
Established back in 1964 by Salvatore Riggio, this pizza place is famous for two things: the first is for being owned by the same family since its inception, and the second is for its plain cheese slices. In fact, for the first 20 years of its existence, NY Pizza Suprema only sold plain cheese slices - if you wanted any toppings, you had to get a whole pizza.
The quality has obviously stood up through the years, as they claim plain cheese has continued to be their most requested slice. Salvatore Riggo's son runs the restaurant, and this Penn Station pizza place has since been featured on shows like Good Day New York. Located at 413 8th Ave, right across Madison Square Garden, they are open daily from 10:30 am to midnight.
Despite the many changes New York-style pizza has seen since it originated in the early 1900s, many Penn Station pizza places still focus on the Neopolitan style. Sacco Pizza counts itself as among the best when it comes to this traditional Italian practice. With over 50 years in business, they're definitely worth a stop for that classic slice. Located at 819 9th Ave, they are open from 11 am to 8:30 pm each day, but Sundays, when they are closed.
Located literally inside Penn Station, the pizza here is as convenient as it gets if you're running to catch the subway. They're definitely a hidden gem of the city, serving pizza by the slice along with winds and sandwiches for when you're traveling with those who don't love pizza as much as you do.
They're also located by one of the only Krispy Kremes in the entire city, an added bonus if you want something sweet afterward. They are open from 10 am to 8:30 pm each day, and if you're really in a hurry, you can order takeout online to grab as you go. Just make sure that your phone stays charged to order in advance with MobileQubes!
Waldy's Wood Fired Pizza and Penne is a great sit-down spot, whether you just need to take a breather and eat some pizza or for dinner with friends. Made with local ingredients, specialty pies include clam, breadcrumbs, and ricotta; braised lamb with roasted lemon and oregano; and arugula with garlic and sunny side up eggs. Not to mention that they take care of their true enthusiasts - anchovies are free on any piece of pizza. Located at 800 6th Ave, they are open from 11 am to 11 pm each day.
Kiss My Slice stands out for its selection; there are plenty of pies, slices, calzones, rolls, and heroes to choose from - but more importantly, it's catering to particular dietary needs. This Penn Station pizza place has cultivated a reputation for having some of the best vegan pizza in the city, so non-animal byproduct eaters can rest assured, knowing that their needs will be met. Located on 274 40th St, they are open 10 am to 10 pm each day.
Described as a rustic Italian trattoria, Tavola still makes authentic Neapolitan pizza, making this Penn Station pizza a favorite for locals and visitors alike. The full menu, which includes market fish and pasta, is based on traditional Puglian, Roman, and Sicilian food, following the long legacy of great Italian fare in New York. Not to mention that all their pizzas can be made gluten-free with a small added fee, making their food more accessible to all nearby Penn Station pizza lovers. Located at 488 Ninth Ave, they're open 11:30 am - 11 pm, Monday through Friday, and 2 pm to 11 pm Saturday and Sunday.
Vito's Slices and Ices refers to themselves as an old-school New York-style pizzeria, perfect for those who need a slice to go or want to sit with a whole pie. The pizza pies are hand-stretched and served either as Sicilian or grandma style, but their real selling point is the house-made Italian ice. This sweet treat is perfect for a hot summer day in New York. Located at 464 9th Ave, they're open 11 am - 9 pm, Monday through Thursday, and 11 am - 11 pm on Friday, Saturday, and Sunday.
BarDough is excellent in terms of sit-down pizzerias near Penn Station. The pizza there can be vegan, an added bonus, along with their wide selection of gourmet pies. BarDough is also well known for its carefully crafted cocktails, making it a favorite for group gatherings, so much so that you may want to make reservations well in advance. Located on Restaurant Row at 350 West 46th St, they are open 4 pm to 11 pm Monday through Wednesday; noon to midnight Thursday; noon to 2 am. Friday and Saturday; and noon to 11 pm on Sunday.
Get Penn Station Pizza Now
New York pizza is truly one of a kind. Many claim that the first pizzeria in the United States of America was claimed to be founded in New York's Little Italy in 1905. The original pizzerias used coal-fired ovens and typically baked their pizza with the cheese on the bottom and the sauce on top, opposite of how it is done today, unless you're in Chicago.
The distinctive crust comes from the high-gluten bread flour and the minerals present in the New York City tap water supply - in fact, some out-of-state pizza makers will take water with them to recreate the texture.
It's no wonder that if you're in Penn Station, pizza might be the only thing that will satiate your hunger. Don't get tied up with charging your phone; find a MobileQubes location today.