Places to Eat Near Union Station Chicago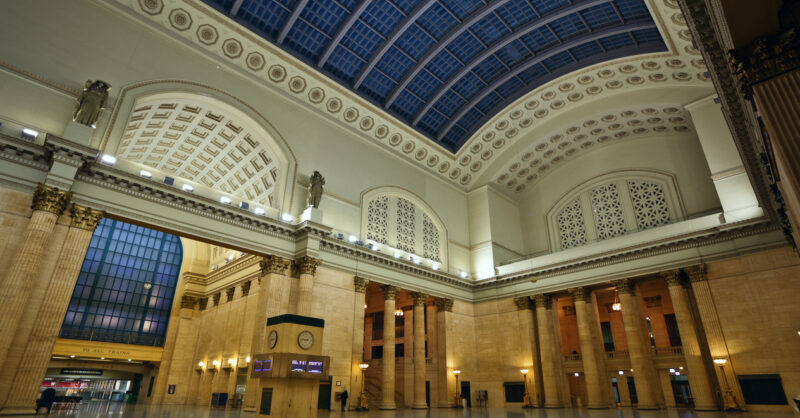 If you've ever been to the city, you know that there are countless places to eat near Union Station Chicago. Union Station is a central hub, so chances are your trip to the windy city will include a stop here. Initially designed by Daniel Burnham and later completed by Graham, Anderson, Probst, and White, Union Station is an iconic building situated just off the river. As the nation's third-busiest train station, there are plenty of attractions nearby, including an array of restaurants.
If you find yourself feeling hungry after your train ride, there is no shortage of options available for you within walking distance of the station. If your stomach isn't the only thing needing replenishing, you can find MQ Blue stations right inside Union Station so that you can charge your phone. From classic Italian restaurants to brunch spots to burger joints, there's a little something for everyone's taste. Here are some of the best places to eat near Union Station Chicago.

Lou Mitchell's
If you're in the mood for breakfast food, this is the restaurant for you. This historic diner serves all the classic breakfast meals. It also features an extensive lunch menu, making it the perfect brunch spot for satisfying the crowd. Opened in 1923, Lou Mitchell's has been a Chicago classic for almost a century. Their friendly atmosphere makes everyone feel right at home, and their great food will make it a home you never want to leave. Just make sure you get there early because they're only open until 2 p.m.

Epic Burger
No one can resist a great burger, and Epic Burger looks to prove that point. This fast-casual restaurant offers various burgers at reasonable prices, all with non-processed, all-natural ingredients. Not interested in their premade burger options? No problem, build your own instead! Don't like beef? No worries, get a chicken, turkey, or impossible burger instead! Finish off your meal with fresh-cut french fries and an icy cold milkshake for a quick and easy meal that'll leave you fully satisfied without having to travel miles away from the station.

Little Toasted
If you're looking for something a little more mature, Little Toasted is the option for you. This restaurant features sandwiches, a whiskey list with over 150 options, and responsibly sourced coffee. On top of all that, this restaurant is situated right on the river. It also boasts one of the most extensive outdoor patios in Chicago. Take advantage of the warm, late-spring weather at Little Toasted outdoor space, and cool yourself off with one of their 50 types of craft beer.

Giordano's

Another excellent food option lies just across the river at Giordano's. This iconic Chicago restaurant features all of the Italian classics, a full bar, and, of course, their signature deep-dish pizza. Giordano's pizza is known as the best in Chicago, so this is a must-eat during your trip. Their recipe originated in Italy almost 200 years ago, and brothers Efren and Joseph Boglio brought it to Chicago in1974. For over 40 years, this has been one of the best places to eat near Union Station Chicago. No trip to Chicago is complete without deep dish pizza, and there's no better place to get it than Giordano's.

Arturo Express
When you're crunched for time and absolutely can't wait any longer for your lunch, finding options that fit your timeline while still being healthy and reasonably priced can be challenging. Enter: Arturo Express. With food inspired by authentic old-world Italian delicatessens, this restaurant offers sandwiches made of only the finest Italian meats and cheeses and fresh bread that's baked in-store. If sandwiches aren't quite your speed, you can always opt for a salad or pasta, all of which are very reasonably priced. Best of all, they offer catering services for a variety of events.
Proxi
For your more exotic tastes, look no further than Proxi. This restaurant serves dishes inspired by street food from around the world. With food from India, Asia, and Mexico, there is sure to be something that piques your interest and tickles your taste buds. If you're looking for ambiance, you're sure to find it here through mid-century inspired interior decorating, barrel-vaulted ceilings, and floor-to-ceiling windows. This restaurant is one where you won't be able to resist taking pictures of your food. If that doesn't convince you, you can always check out their sister restaurant, Sepia, right next door.

Union Station Food Court
If you don't even have time to leave the station but need to refuel, then the Union Station food court is your best bet. There are several fast food options (think Starbucks and McDonalds) along with a few sit-down options if you're looking for something just a little less casual (think Robinson's ribs and The Junction Chicago). No matter what you're in the mood for, this food court has something for every taste, and it's just around the corner from our Union Station MQ Blue station, so you can be sure your phone is refueling right alongside you.
Phone Eats First
take advantage of all the food options around you. There are countless other options of places to eat near Union Station Chicago, and as long as you use MobileQubes, you can rest assured that you'll be able to use your smartphone's GPS, call in your reservation, and take the perfect Instagram of your meal without worrying about killing your phone battery. Once you're done, you return the Qube to one of our kiosks, and you're good to go. Gone are the days of searching for an available outlet in the restaurant; use MobileQubes to remain free from the cords and the hassle