The Perfect Union Station Chicago Wedding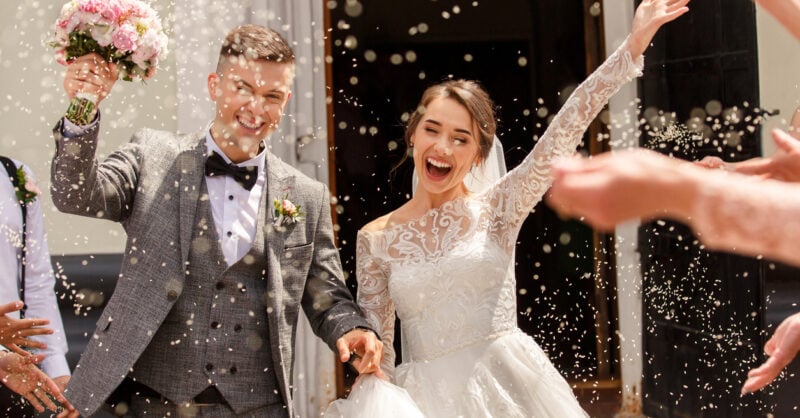 If you're preparing for your big day and find yourself dreaming of the perfect Union Station Chicago wedding, don't worry - you're not alone. The station has become a favorite for those tying the knot, in no small part because of the stunning event spaces available. Full of vintage glamor with modern energy, this is a one-of-a-kind venue. So are you planning to host a Union Station Chicago wedding? Let this be your ultimate guide.
Planning a Union Station Chicago Wedding
The Venue
Of course, the venue is the stand-out feature. There are plenty of spaces inside Union Station to choose from, with prices ranging from starting at just $100. In addition, recent revitalization efforts have restored many sections of the station, increasing capacity and accessibility for your event.
The Great Hall is perfect for those with an extra-large wedding party, with 700 seating capacity and 1,300 standing for the reception. The second-largest option, the Burlington Room, can host 220 seated and 350 for the reception. Both of these options offer the perfect background for photos from your big day, combining Grecian architecture and classic golden-era gilded accents.
There are other options for those who want the beauty of the large spaces but don't need all the extra room. For example, the Founders Room seats 150, allows room for 300 at the reception, and features falling chandeliers. Similarly, the Adams Street Balcony sits 180 at the theater and 250 reception.
Finally, for those looking for a smaller or more casual space, there is the Barber Shop and Pennsylvania Room, both of which seat 60 people.
The Theme
If you want to have a themed Union Station Chicago wedding, there are plenty of options to consider. A theme means that you have an idea or concept that flows throughout the event, and it can be as specific as your favorite movie or decade to as simple as a color. What matters is that the theme ties the individual elements of the wedding together, making it a cohesive event.
When you're choosing a theme, it's essential to keep a few things in mind. No matter what, it should be something that you and your partner like - above all else, this is your event. However, your theme should be recognizable by your guests, personal enough that it fits your own story, and unique enough that it stands out. After all, you don't want to be the fifth rustic chic wedding in a year; standing out allows your guests to give your special day the appreciation that it deserves.
Many couples go with a Great Gatsby or a classic 1920s theme for a Union Station Chicago wedding. This theme allows the restored space to shine rather than simply another space to hold decorations. Vintage - especially the 20s - is a popular wedding theme today due to the romantic tones it offers and the unique look of the era. Since the Union Station was built in 1925, it makes perfect sense that this theme could shine inside the station.
This theme also doesn't rely on seasons, making it perfect for your winter or summer wedding. If you consider having a 1920s style theme, consider leaning in and searching for genuine vintage items to decorate the space - and don't forget the feathers and florals!
The Decorations
The decorations' role in a wedding can be as big or as small as needed. With a Union Station Chicago wedding, you'll have plenty of wiggle room either way.
Your wedding theme and location should influence your decorations - wildflowers may look a little strange in a yellow-tone ballroom in the same way falling white roses may not look quite right in a rustic setting. Remember to also keep in mind your table configurations, which can (and should) help you decide the shape and style of the centerpieces.
If you want to lean into the Chicago aspect of the wedding, consider incorporating the Illinois state flower, the common blue violet, into the bouquet or decorations. You should also look for local vendors such as the Flower Firm, one of the Union Stations' preferred vendors.
The Food
There are plenty of great spots to grab a bite near Union Station, but you may not want them to cater your wedding. When it comes to catering, the first thing you have to decide is doing a plated or buffet reception, both of which have their pros and cons. Buffet arrangements are typically cheaper, more sociable, and have a more casual tone. On the other hand, some prefer the seated dinner due to its formality and, of course, keeping in line with a more traditional wedding reception set up.
A buffet-style dinner is typically an average of $29 per person and may be higher depending on the entree and side options offered. A plated meal usually costs an average of $26 per person, depending on the caterer, but they may require you also to rent the china, glassware, and cutlery. Either way, make sure to ask and compare prices across the board.
The Dress
If you, your partner, or both of you are wearing a dress, there are many things to consider. Wedding dresses have been built up as the end-all-be-all of the event, but it's most important to make sure you are wearing something you like. However, there are some things to keep in mind when making a big decision.
Make sure to research what you like and want to try on, but also be open to trying something new - if you've done too much looking, you may not be able to see the forest through the trees. Be sure to make an appointment with a shop whose dresses you know you like.
Remember that your dress should also fit the venue and temperature, so if you're planning on having a winter Union Station Chicago wedding, you should avoid picking a dress better suited for the beach. Bring photos of the venue to show your consultant, and they should help you choose gowns appropriate for the location.
The Pictures
Many married couples will say that the photographer will end up mattering more than anything else, and there's a good reason for that. A good photographer can and should highlight all the individual aspects of the wedding that you have been carefully planning for, while a less-than-stellar choice could end up making even the most beautiful in-person wedding look just okay in pictures.
Do your homework and figure out what style of photography you like - if you love bright, colorful photos, even the best vintage-style photographer will be wrong. Make sure to get a couple of photographers whose aesthetic works for you before emailing and asking about rates and dates; if you pin all your hopes on just one person and it doesn't work out, that can make finding a second all the more difficult. With a Union Station Chicago wedding, you may want to find someone local who has shot at the venue before and already knows what angles work.
Don't be afraid to schedule a test with an engagement photoshoot. This test shot can allow you to get to know your photographer and get comfortable with them, especially if you or your partner are camera shy.
Don't Let Your Wedding Drain You
Wedding planning can be stressful, but don't let it completely drain your battery - literally and figuratively. Make sure to ask for help from your friends, family, partner with wedding planning, and keep your phone charged with MobileQubes as you prepare for your big day.
Find a Mobilequbes kiosk near you today!