Tips and Tricks for the Frequent Business Traveler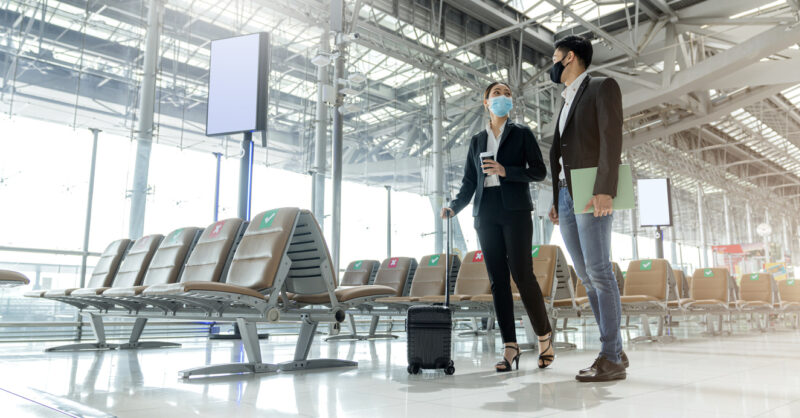 If you're a frequent business traveler, you probably already know that certain tips and tricks can make the process move much more smoothly. As you move from a casual flier to a frequent business traveler, you may find yourself faced with an unpleasant truth: traveling for business isn't always the most enjoyable. However, the more you do it, the more you will find several ways to improve the process exponentially. Here are some of the best ways to upgrade your experiences as a frequent business traveler.
Pack Smart
Perfecting your packing strategy is one of the most important things you can do when traveling for business. Finding ways to minimize the amount of luggage you take will help make your travels more manageable and save you money in the long run. There are several ways to pack smarter, and they will all help your business travel run more smoothly.
Avoid baggage claims
By packing only in carry-on bags, you can significantly reduce the amount of time spent in the airport. No one wants to wait endlessly at the baggage carousel, and this way, you won't have to worry about your luggage getting lost in the shuffle.
Invest in packing cubes
Packing cubes will become your best friend as you find the most efficient way to load up your luggage. Not only do these work wonders when trying to pack in the smallest bag possible, but they also come in handy for staying organized on longer trips.
Stay charged up
If you're worried about losing battery life throughout your trip, there are a couple solutions available. Away offers the best in smart luggage, meaning you can charge up your computer from the overhead storage bin. If you're looking for something more handheld, though, check out our MobileQubes locations for a cordless charging option.
Bring a travel kit
Making yourself a little emergency kit is the perfect way to avoid mishaps in transit. Pack this with healthy snacks, face wipes, lavender oil, any medications you need, and a few things to help you sleep on the flight.
Layer up
This applies more to your actual travel day attire, but including layers in your wardrobe can help you combat the shifting of temperatures that often comes from travel. This can also come in handy if you end up having a more casual night during your business trip because no one wants to remain in dress clothes all day.
Bring wrinkle releaser
Most hotels have access to an iron, but it's always better to be safe than sorry. By packing a wrinkle releaser in your bag, you can be sure that your favorite business suit won't look frumpy, even if it just came out of your suitcase.
Strategize
Lastly, it's always best to pack strategically, with security checkpoints in mind. Keep your electronics and liquids somewhere easily accessible, and wear shoes that are easy to take on and off to avoid becoming that person in the security line.
Speed Up Your Travel Day
The actual travel time involved in your business trip is easily the worst part. Between potential delays and crowded lines, there are many ways your day in transit can go wrong. Luckily, there are several small ways you can speed up your actual day of travel.
Join rewards programs
If your company puts you up in Marriott Hotels, joining their rewards program will likely pay off quickly. The same goes for an airline rewards card; be sure to pick one without any foreign transaction fees if you do any international business travel.
Learn your airports
Certain unspoken rules apply to different airports. Avoid flying through Florida during the summer months (no one wants to deal with Disney airport traffic), beware of summer storms when flying to Dallas, and you can fly to Philly or from Philly, but don't fly through Philly, or you're likely to get stuck with delays. Learn these nuances about the airport you're flying to ahead of time.
Skip the layover
Some of the airport nuances can be ignored if you simply choose to fly direct rather than taking the connection. Less coordination between flights means less chance for things to go wrong. Plus, adding in those hours on the road means less time to enjoy your destination.
Get a lounge membership
If you can't avoid the layovers, having an airport lounge membership can significantly improve your experience. Even if you don't have a layover, having the opportunity to relax in the lounge before your flight can allow you to gather your thoughts and get organized before that big meeting when you land.
Invest in TSA PreCheck
Join TSA PreCheck or another similar program to help cut down the time you spend in security lines. You can use this for any travel, business, or leisure, so this investment will remain helpful whether you're traveling for business or not. Best of all, some credit card rewards programs include membership, so you could already have access to this program.
Print out important information
No one wants to think about what they'd do if their phone dies halfway through travel, but unfortunately, it does happen. Take a little time to print out any critical travel information before you get to the airport, just in case your go-to device dies. But, also try to avoid this issue entirely by renting one of our Qubes to keep yourself charged up.
Get Some Trusted Tech
Especially with business travel, solid technology can mean the difference between smooth sailing and disaster. Save yourself the headache by investing in some of these gadgets to ensure you're ready for anything that may come your way.
Get good headphones
Invest in some solid noise-canceling headphones, pack them on every trip you go on, and always bring a backup, just in case. You don't want to get on a flight with a screaming baby without reinforcements, and noise-canceling headphones can mean the difference between sleep and misery.
Bring your (e)Book
eBooks are a fantastic invention for the frequent business traveler because they can save you loads of room in your bags. An eReader can keep you occupied for hours while in transit, and in many cases, they're lighter than your cell phone. By stashing this in your carry-on, you can be sure your travel is both productive and enjoyable. There are countless other gadgets worth considering for your next business trip, but with these two staples, you can be sure you'll be occupied.
Keep MobileQubes on Deck
No matter the travel occasion, bringing your MobileQubes with you will always keep things moving more smoothly. Nothing will derail a trip faster than a dead device. As a frequent business traveler, you're probably already familiar with the basics necessary for a stress-free journey, but these tips can mean the difference between delight and disaster. Plus, as you get better at streamlining your trip, you'll probably find the people around you appreciating your efforts as well. Keep these tips and tricks in mind next time you travel for work, and your trip will be a breeze.